NEWS

November 2019
The 3DCLEAN project has comme to an end and the final report has been sent to the ANR.

3DCLEAN (
3D
C
ata
l
ytic
E
nvironmental L
a
b at the
N
anoscale) was a Collaborative Research Project (PRC) of 42 months (extended to 48 months) associating the coordinator laboratory MATEIS (Université de Lyon, INSA de Lyon, UCBL Lyon 1, UMR CNRS 5510), IFPEN (centre de recherches de Solaize), IPCMS (Université de Strasbourg, UMR CNRS 7504) and CREATIS (Université de Lyon, INSA de Lyon, UMR CNRS 5220, INSERM U1206, UCBL Lyon 1, UJM St-Etienne). The project concerned an experimental development in environmental electron microscopy applied to heterogeneous catalysis (fundamental research for application purposes). It has started on November, 30 2015 and received an aid from the ANR of 618 488 € for a global cost of about 1 950 k€. It has produced 17 publications (still some in progress), 43 communications in conferences (among them 20 invited ones), 58% of the scientific production do associate at least 2 partners.

Illustration: Tomography of Pd@SiO2 catalysts during their dynamic evolution under gas and temperature in Environmental Transmission Electron Microscopy (ETEM). On the left: 3D quantitative analysis of crystallographic facets of the Pd NP (ETEM in a close-cell, IPCMS-CREATIS). On the right: fast in situ tracking of the same Pd@SiO
2
aggregate during reduction in a dedicated ETEM (MATEIS-IFPEN).


November 2018
3DCLEAN Semestrial meeting to be held in Strabsourg, November 22.
Link to the the internal signal and image processing platform from IFPEN:
www.plugim.fr
.

October 2018
ChemCatChem
cover based on the paper by K. Dembélé, M. Bahri,
G. Melinte, C. Hirlimann, A. Berliet, S. Maury, A-S. Gay, O. Ersen,
Insight by In Situ Gas Electron Microscopy on the Thermal Behaviour
and Surface Reactivity of Cobalt Nanoparticles,
ChemCatChem
18/2018
,
https://doi.org/10.1002/cctc.201801445
.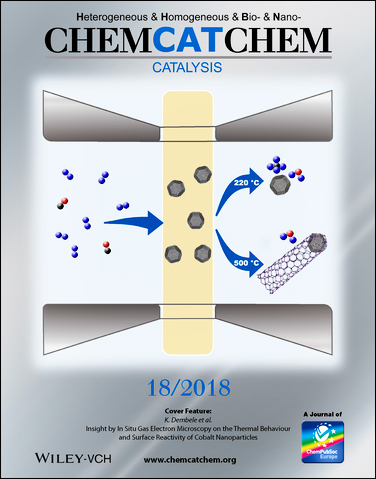 September 2018
Back from Australia to attend the International Congress of Microscopy IMC19: 9-14 September in Sydney, where several contributions were presented of works performed in relation with
3DCLEAN
:
- H. BANJAK et al., CREATIS (+ MATEIS): "Deep Neural Network for Iterative Image Reconstruction with Application to Fast Environmental Transmission Electron Tomography"
- T. EPICIER et al., MATEIS (+ CREATIS): "A robust method to acquire tilt series in a few seconds for Fast Operando NanoTomography in ETEM"
- C. HIRLIMANN et al., (IPCMS + IFPen + CREATIS): "Combining environmental gas TEM and electron tomography"
- T. EPICIER (M. BAHRI) et al., MATEIS (+ IPCMS + IFPen): "Gaseous Environmental TEM: a complementary study of nanocatalysts using a combined dedicated ETEM vs E-cell approach"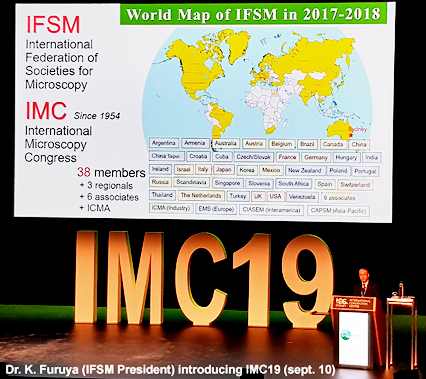 February 2018
Special Issue
"Environmental Electron Microscopy"
,
J. of Microscopy, RMS, Wiley